Why hire an interior designer for your home refurbishing project?
Whether it's for a residential or a commercial project, there many benefits to consider working with an interior designer.
When it comes to decorating and designing your home, office or retail space, then there is a good chance that you are going to want to try and save yourself some money and flex those creative muscles of your own. Whilst there are lots of great things that you can achieve with no experience or knowledge in interior design, for many people, hiring an interior designer not only provides fresh eyes and ideas into the mix – but it also helps simplify the process and saves them money!
Not sure that you believe us? We have an expert explaining why hiring an interior designer could benefit your interiors and you pocket! Johanna Endres-Castillo, Interior Design Director at Speaking of Interiors, a Clapham-based interior design studio gives answers to our questions and explains reasons why hiring an interior designer for your interior project might be the best move for you.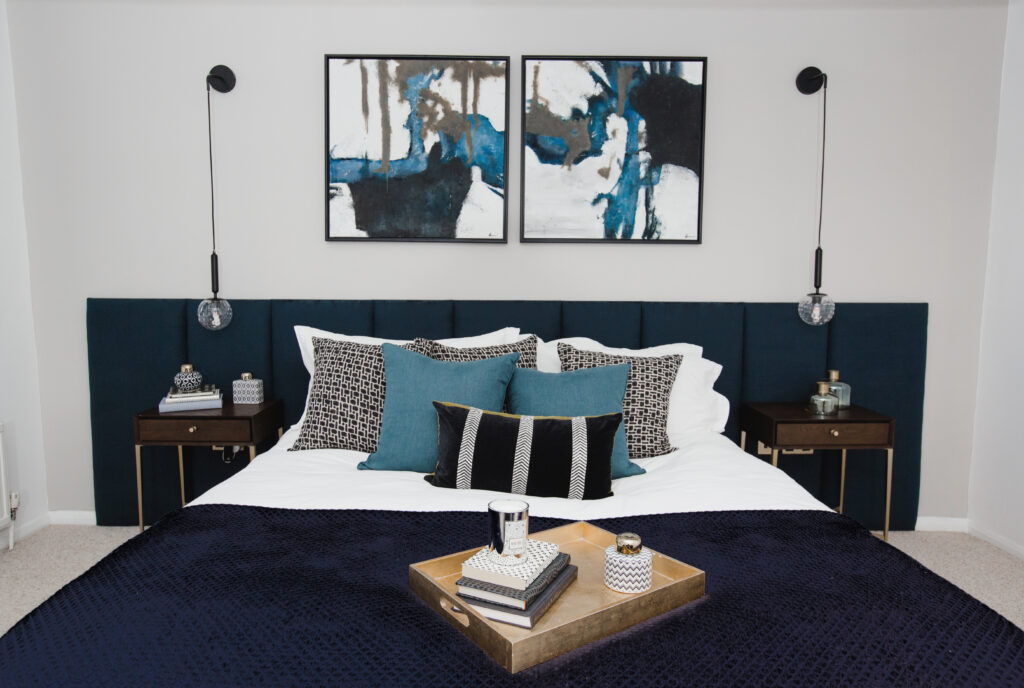 Bespoke headboard and styling. Bedroom designed by Speaking of Interiors.
View the full project by clicking here: Contemporary Clapham Flat
QUESTION #1
What's the main benefit of hiring an interior designer VS doing it myself?
A:
Interior designers help adding value to your property and elevating your ideas

. Their experience in space planning, use of materials and colour combination will upscale your vision and propose solutions that you haven't thought about.
Interior designers can see the full potential of your property and will help you increase its value (both aesthetically and financially speaking) – from the right use of lighting and the right colour to make the wall pop to the best practices for storage solutions and traffic flow considerations.
They would want to get a clear idea of what you have in mind and ask you what practical considerations you require (e.g. An area to hang your coats when you walk in, a cosy corner to read your books, etc).
The trouble with dreams is that you may not necessarily know what to do to make them a reality, but this is something that an interior designer can definitely help you to do whilst still considering your budget and guiding you through it.
Another key thing to know about interior designers is that they are going to be able to tell you, realistically, what can be achieved.
They will take a look at the plans that you have (and the space that you have available, too), and if something is not going to be a viable option, then they will let you know.
That way, you can be sure that whatever it is that you put in place in your home is not only going to look amazing but that it is also going to be something that works for you.
QUESTION #2
Why should I pay an interior designer instead of spending the money on something else?
A: When working with an interior designer, not only you'd get the expert's guidance and out-of-the-box ideas, but most of our clients find that the overall savings they get through
trade discounts end up outweighing the initial design fee

!
Of course, much like anything in life, an interior designer is going to come at a price. When hiring an interior designer, you will usually find there're two types of fees you need to consider:
Interior Design Fee
Every studio calculates this differently, but in a nutshell, it would be the cost of the designer's experience and the time required for the project.
Depending on the size of your project, this can be calculated as an hourly rate or a flat fee.
A more established studio will have a much higher rate than a boutique studio like Speaking of Interiors Ltd. However, that's not to say that smaller studios can take on and deliver the project at the same high standard!
FF&E or Procurement Fee
If you want your designer to make purchases of materials, furniture and other items for your project, you get access to their trade discounts – which could go from 5% to as much as 50%, depending on the brand.
You could expect Interior Designers to share this discount with you, but they will charge a small percentage to cover the admin time of placing orders and coordinating deliveries. Procurement fees are usually 10%-15% of the total trade price, but each studio has their own way of calculating this.
Example:
If you decide to buy a sofa directly from the store, it would cost you £5,000.
Now, let's say your interior designer gets a 30% trade discount in that shop, which means they would pay only £3,500 for the same sofa if they purchase it. If you choose to buy it through them to get access to their discount they would charge 10% of the total trade price which would be: £350.
In the end, you would pay (trade price) + (procurement fee) = £3,500 + £350 = £3,850.
That's a total saving of £1,150!!!
QUESTION #3
What could I expect from hiring an interior designer to help me with my project?
A: There's a range of interior design solutions available depending on your project's requirements. However, ultimately, you should
expect a personalised design that meets your budget and style

.
Your design expectations should be based on the type of service you've selected – these could go from remote design-only service packages to start-to-completion design service. The offers and costs will vary from studio to studio.
Here's a few examples of the type of service interior design studios offer:
Regardless of what service you hire, the experience should feel personalised and tailored to your needs.
Communication is king when working with an interior designer. You want to build a good rapport from the start and maintain an open and honest line of communication throughout the project's duration.
Why's that so important, you ask? The truth is that, no matter how well you plan things for your interior makeover, there is still going to be a chance that things may go wrong, or you may come across a hurdle that you did not know was going to be a problem.
Communication is king when working with an interior designer. You want to build a good rapport from the start and maintain an open and honest line of communication throughout the project's duration.
Rather than feeling that the issue is going to be a "problem", a professional interior design team and going to recognise the potential in front of them and offer solutions. They can help you to remain positive and can suggest changes that can be made which are going to work better in both the long and the short term too.
Mood board example, furniture layout and elevations for a Grade II listed property in Stockwell.
About Speaking of Interiors Ltd.
We're a small yet thriving Interior Design studio based near Clapham Common. We offer a range of expert, affordable and personalised services for residential and commercial projects in South West London.
Would you like to discuss your project with us? Book a complimentary initial consultation call to speak to our expert team.